If you manage a restaurant, you should make sure that all of your patrons have a variety of dining options available to them throughout the year. An outdoor dining space is something that customers consider when selecting a restaurant, particularly in the summer. After all, it's relaxing to have a good dinner and delightful company while sitting outside in the sunshine and breeze.
Offering outdoor eating does provide some challenges, most notably the weather. Only sunny or cloudy days are suitable for using outside spaces; windy, wet, or cold weather will force them to close. This could result in a loss of headcount and the temporary ineffectiveness of that area of the restaurant. However, that's where restaurant patio enclosures are useful!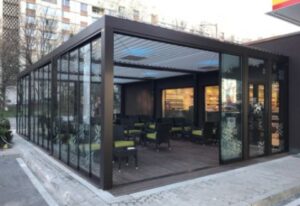 Typical outdoor patio enclosures are transient buildings consisting of, among other things, beams, posts, prefabricated walls, and roof sheeting. When it's bad outside, staff may easily lower these cages to give guests shelter; yet, on sunny days, they can be easily raised.
Restaurant patio enclosures can be customized to each establishment's specific needs. They can also add features like vinyl roll-up and down curtains as a less expensive option to safeguard clients. As an alternative, you may have a sizable, fixed structure over the patio erected with retractable components, or a portable enclosure with retractable screens for an open area.
Types of Restaurant Patio Enclosures
Restaurant enclosures are made from a variety of materials and styles. There are three main styles that they would choose from for establishments like restaurants:
portable, lightweight structures
Large, permanent construction placed over a patio

Retractable enclosure systems that keep space open, but they can be closed as necessary.
A roll-up vinyl seasonal shade cover is frequently chosen by eateries that go with option 1. This enclosure will feature a typical overhanging roof with vinyl screens suspended from it that can be opened and closed using a straightforward rope and pulley system. It is a simpler and lighter alternative for momentary shelter during bad weather.
However, there are other restaurants that want something more solid and long-lasting. These serve as an all-year-round addition to the restaurant's interior space. You can pick from a variety of various modifications, depending on whether you want a fixed roof or one with retractable parts to provide desired al fresco experiences.
The aluminum frameworks we use to construct our enclosures are thermally fractured, which are the best material for permanent patio enclosures. Like a result, the room may be heated or cooled as you would with a typical building, and you can decide whether to leave it open or closed to allow for enough ventilation.
We heartily endorse aluminum as one of the many materials we list here. It is among the greatest materials and what we use for our enclosures because it can survive even the worst weather and situations, such as: humidity, high winds, heavy rain & snow.
Additionally, the aluminum frames feature a premium electrostatic paint finish that resists corrosion and won't need to be painted again, ensuring that they will look great and function perfectly for a very long time with little upkeep.
Steel
Steel is another option that businesses have for their structural framing. In contrast to aluminum, steel would need greater upkeep in certain places, such as painting. Additionally, steel is heavier, which could cause problems. For instance, a heritage structure or a building with rooftop enclosure plans cannot handle the weight of steel. Furthermore, these shelters must be fixed constructions that cannot be opened during pleasant weather.
Wood
Wood is also a common option, but only under certain circumstances. Additionally, wood can be used for fixed roof overlays, which will look lovely and offer a warm, individual character. Unfortunately, these will need a lot of upkeep because the material cannot be opened during great weather but can discolor and fade when exposed to sunlight.
Glass
Skylights can be made of a variety of materials, with glass being the most straightforward and often used. There are several variations of this substance, including colored, high-performance, and low E glass.
We refer to variations of materials with one (or more) improvements as high-performance glass. It could have a security coating, be impact-resistant, or be energy-efficient. Regarding Low E Glass, this substance has been processed to limit the amount of UV and infrared light that enters the enclosed space.
Glazing Options
Acrylic is a glazing choice that is dependable, tougher than glass, and resistant to fading. In addition, it is UV-stabilized and stays clearer for longer than standard glass. It also costs less than the other materials we mentioned and is quite lightweight.
Polycarbonate, a nearly indestructible material that can resist fading when treated with UV protection, is another choice for glazing. It is also heat-resistant and stays clearer for a longer period of time than regular glass. Its pricing is more affordable than that of other materials, and it is also highly lightweight.
Of course, toughened tempered glass that resembles your car's windshield is another option that has been available for years. It is sturdy and powerful, and if it breaks, the glass shattering into smaller fragments helps to reduce bodily injury. Because of this, this alternative is not utilized as frequently as acrylic or polycarbonate.
About Retractable Patio Enclosure
Despite the advantages of fixed enclosures, more rest

aurant owners choose to spend their money on retractable enclosures or retractable roof systems for various hospitality environments regardless of the weather. In bright summer days and dry, pleasant evenings, they can open the roofs or the enclosure (roof and walls), or they can close it in strong winds and downpours. Additionally, these enclosures can be made to order in a variety of sizes and shapes while providing adequate operational and energy savings.
Benefits
Restaurant patio enclosures feature a wide range of advantages, including:
Extensions are more expensive, while enclosures provide a distinctive dining experience. As enclosures will increase the amount of area that can be used for dining throughout the year, it's a cost-effective solution to expand your restaurants' seating capacity without going over budget. There's no need to spend money on an expensive building addition!

With restaurant patio enclosures, you can adapt your space to the needs of your patrons and the weather. If there is poor weather, either keep the enclosure covered or take it off so that clients can enjoy a better, sunnier atmosphere.

By offering indoor or outdoor dining options that wow your consumers, you may draw in more business. On sunny days, you'll see a lot of customers eating outside. If your restaurant doesn't yet offer this service, they'll probably choose somewhere else to eat.
Gain more money by being able to serve more customers simultaneously, regardless of the weather. With a restaurant patio enclosure, you have more space covered because you can use the tables even when it's not summer.

Increased daylighting is provided by restaurant patio enclosures, which encourages energy efficiency. Since you won't need as many lights during the day, you'll save money on energy and benefit the environment.

In addition to enhancing customer satisfaction, retractable restaurant patio enclosures will permit adequate air ventilation, which is advantageous in case of a health emergency. For instance, research into the COVID-19 worldwide pandemic has demonstrated that the virus can spread indoors due to inadequate ventilation. You can keep your employees and customers safe and reassure them that you care about their health by providing greater air ventilation.
Conclusion
Restaurant patio enclosures are great additions to your business since they provide a variety of advantages and may be tailored to meet specific demands. Contact us right away if you're interested in these enclosures! The various designs, materials, and sizes of the enclosures we utilize for pool enclosures also work for patio and restaurant enclosures.